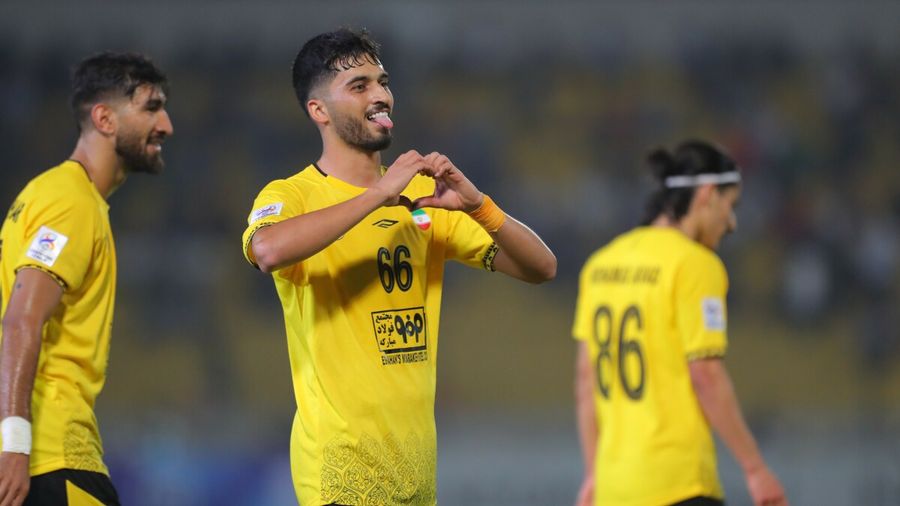 Tehran Times - Iraq's Air Force Club and Iran's Sepahan football teams played out an entertaining 2-2 draw in their opening AFC Champions League 2023/24 Group C match at the Franso Hariri Stadium on Monday.
An 89th-minute equalizer from Ali Jasim, who had also scored to give Air Force Club an initial lead, meant that the first ever meeting between the two clubs in the AFC Champions League ended in a stalemate.
The home side got into their groove early in the game, putting their much more illustrious opponents on the back foot particularly with the direct running of Jasim down the left side of Air Force Club's attack.
It took Jasim only eight minutes to provide the first test for Payam Niazmand, the Sepahan custodian having to push away a stinging shot from the 19-year-old attacker.
The same individual battle came to the fore in the 26th minute but this time, Jasim came out on top to put Air Force Club ahead, cutting in from the left before his shot took a deflection that gave Niazmand no chance.
The Iranian giants responded in quick fashion, needing only four minutes to draw level.
Farshad Ahmadzadeh's cross was misjudged by keeper Mohammed Hameed - under pressure from surrounding players - and the ball fell into the path of Mohammad Daneshgar who smashed home from close range.
The second half saw a more cagey affair with Air Force Club's Sampson Eduku and Sepahan's Mohammad Ghorbani taking turns to direct traffic from midfield.
A moment of genius in the 67th minute saw holding midfielder Ghorbani make a rare foray forward and his run was picked up perfectly by Karimi's pass, the-afc.com reported.
Sensing Hameed rushing forward to close him down, Ghorbani delicately chipped over the advancing keeper to put his side ahead for the first time in the game.
Air Force Club could have forced an equalizer in the 73rd minute when Payam was left in no man's land after his clearance went straight to Franco Atchou, who put his shot just wide with the goalmouth gaping.
But the home side were not to be denied right at the end when Jasim exchanged passes with Mohanad Abdulraheem before producing an audacious shot from an acute angle to ensure that the points were shared.