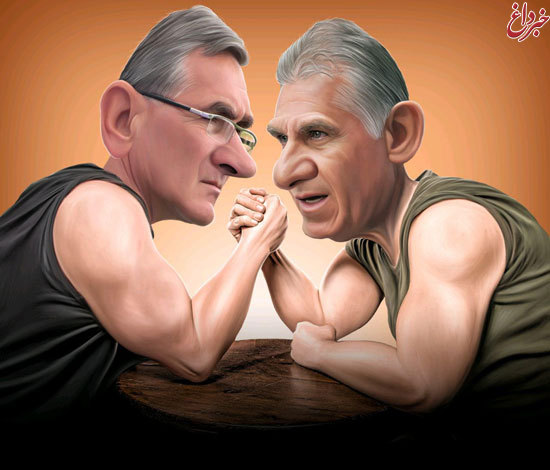 PLDC - Carlos Quiroz has released a statement about Branko Ivankovic's criticism and the situation about seven Persepolis players who got dismissed from Team Melli camp in Dubai.
"Mr.Branko Ivankovic recently decided to publicly criticize Team Melli and I decided to free seven Persepolis players off their duty. This decision has two reasons:
1. We know this camp is not FIFA scheduled and now that Mr.Ivankovic doesn't want to commit to the preparation program that was approved by himself before, I want to make it clear that Mr.Branko shouldn't seek the reason behind his failure or success in Team Melli and my job as a coach.
2. Simultaneously, I wanted to relieve those seven players from the pressure that was forced to them by Mr.Ivankovic who questioned his own players professionalism.
As I said before, This camp had been already included in our preparation program and had been approved by Football Federation, League Organization and clubs.
With all those restrictions and limitations, This preparation program has somehow managed to lead us to the top of our group in World cup qualification games. These kind of camps is really important to elevate the team spirit and can help players to improve.
It's so obvious, This program has considered the benefits of all clubs. in all over the world, Clubs and National Teams are on the same page and cooperative with each-other. Unfortunately with Mr.Ivankovic's lack of commitment to this program and not having a clear view on me and Team Melli, It's not possible to reach an agreement with him.
However, These things do not prevent me from making decisions about players stability in Team Melli. This is why as long as Mr.Ivankovic doesn't change his stand on us, I won't call up any Persepolis players unless it's prior to FIFA days.
After all, These are the things that Iranian People should know:
1. This is normal to see some coaches blame Team Melli for their problems. Mr.Ivankovic is just one of many who decided to step in this way.
2. This is normal too, These kind of coached put club fans against Team Melli fans. One more time, Mr.Brankovic wants to do this but he lacks creativity.
3. Mr.Ivankovic can say whatever he wants but I put all of my efforts for Team Melli and Iranian football with respect for all of clubs including Persepolis.
4. In the end, I believe people exactly know what is happening and Mr.Ivankovic's flamboyant propaganda is just burning himself.
Dear friends, Let me repeat that it's so important for us to focus on our main goal and I'm emphatic on the fact that Mr.Ivankovic shouldn't seek the reason behind his failure or success in Team Melli and my job as a coach."