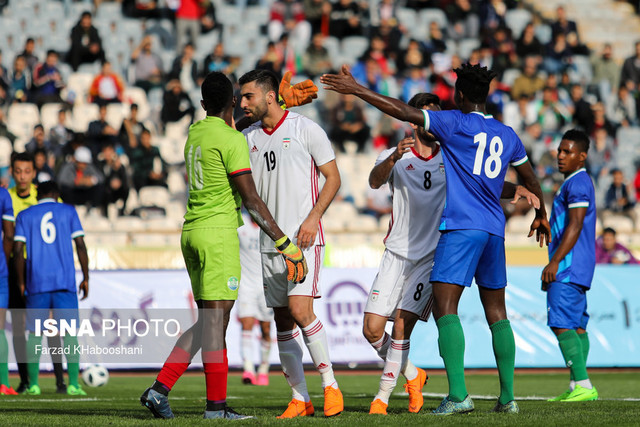 BBC - A friendly between Sierra Leone and World Cup qualifiers Iran last month could be the subject of a match-fixing inquiry, the BBC has learned.
Iran, who meet Spain, Portugal and Morocco in Russia, won 4-0 in Tehran.
Sierra Leone FA (SLFA) president Isha Johansen says an under-strength side left Freetown without her consent.
"I'd like to suggest the Match-Fixing Enquiry Committee looks into [how] this friendly was agreed upon and conducted by the SLFA," Johansen wrote to Fifa.
The Sierra Leone line-up on 17 March was far from representative of the full-strength national side, largely composed of youngsters with just a handful of overseas-based players making the trip.
Johansen says she only learned about the match after the squad had left for Iran and claims that rival factions within the SLFA organised the game instead.
It is said these individuals answered Iranian federation (FFIRI) letters addressed to SLFA general secretary Christopher Kamara without his approval.
"I was impersonated in this arrangement," Kamara told BBC Sport in a statement. He says he did not initially see the correspondence.
The FFIRI, which funded Sierra Leone's flights and accommodation, says it would have cancelled the friendly had it known of its alleged true nature. However, once the players had landed in Iran, the FFIRI felt there was little option but to play the game.
"Cancelling the match will definitely lead to immense financial loss for our federation, not to mention that all preparations plans will be disrupted ahead of the World Cup," FFIRI president Mehdi Taj wrote to Johansen two days before the friendly.
The latter says she allowed the game to go ahead in order to preserve "long-term future relations" with Iran but she has had serious reservations since.
"I am gravely concerned by recent events," added Johansen in her letter, which was copied to Fifa general secretary Fatma Samoura.
"My fear is that activities may have already taken place unknowingly to me for which I may one day [have] to account for."

Sierra Leone FA president Isha Johansen
The match against Asia's top-rated side was the first fixture in nine months for Sierra Leone, who are 98th in the Fifa rankings, between the Faroe Islands and India.
Iran will meet 2010 World Cup winners Spain, reigning European champions Portugal and North Africans Moroccan in Group B at Russia 2018.
A Fifa investigation unit is already set to look into potential match-fixing involving Sierra Leone's national team - dating back to 2008 - following the country's presidential election run-off on 27 March.
The inquiry includes a World Cup qualifier between Sierra Leone and South Africa in Atteridgeville in June 2008, which ended goalless.
Johansen now wants the Iran game to be added to the matches being investigated by this Match Fixing Enquiry Committee.
Since 2014, 11 officials and four internationals have been suspended by Sierra Leone's FA pending investigation, with all having denied wrongdoing.
There are no comments posted here yet