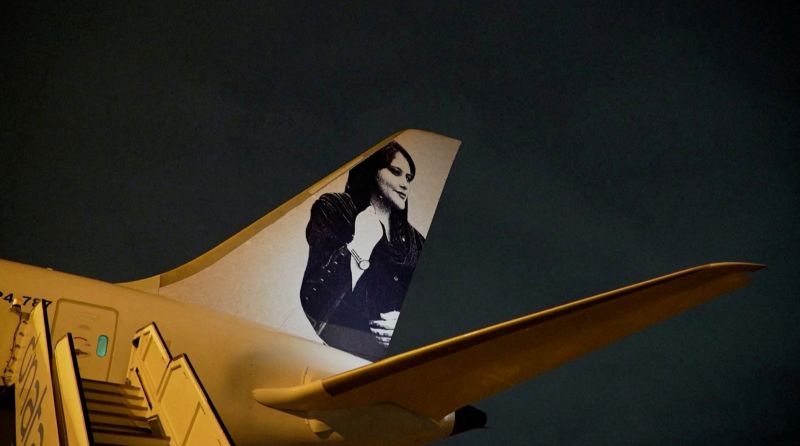 CNN - The plane carrying Brazil's Women's World Cup squad arrived in Australia for the 2023 tournament emblazoned with a tribute to Iranian human rights protestors.
The squad touched down in Brisbane earlier this week in an aircraft that had the faces of Amir Nasr-Azadani and Mahsa Amini, whose treatment by authorities have fuelled anti-government protests in Iran, on the plane's tail.
The aircraft also displayed the phrases "No woman should be forced to cover her head" and "No man should be hanged for saying this" on the side of it.
According to the Sydney Morning Herald, the Brazilian Football Confederation (CBF) has said it had nothing to do with the statements on the plane.
"CBF chartered the private plane, whose messages are the responsibility of the aircraft owner," the CBF said. "It was not an institutional message." CNN has reached out to the CBF and world governing body FIFA for comment.
The charter plane belongs to Argentine film producer Enrique Piñeyro, according to Australian broadcaster SBS.
Protests swept through Iran following the death in September last year of Amini, a young woman detained by Iran's notorious morality police for being accused of improperly wearing her hijab.
Nationwide protests rocked Iran as anger over the regime's treatment of women and other long-festering economic and political grievances flared up after the death of the 22-year-old.
Authorities violently suppressed the months-long movement, which had posed one of the biggest domestic threats to Iran's ruling clerical regime in more than a decade.
High-profile Iranian footballer Nasr-Azadani is accused of involvement in the killing of three security officers, including two volunteer Basij militia members, during protests in Isfahan on November 16, Iranian state media IRNA reported.
According to state media, the city's chief justice, Asadullah Jafari, said Nasr-Azadani had been charged with Baghi – or rioting against authorities. Under Iran's penal code, the sentence carries the death penalty. CNN previously reported that he has been sentenced to 26 years in prison.
Brazil is in Group F for the 2023 Women's World Cup alongside France, Jamaica and Panama. It will begin its campaign on July 24 in Adelaide. The tournament starts on July 20.
Last week, world soccer governing body FIFA announced that captains of teams of Women's World Cup teams would be allowed to wear an armband around eight different social causes, including gender equality, inclusion and peace.